Velcom's sixth anniversary
Author: Mikhail Doroshevich
19/04/2005
Belarusian GSM operator Velcom, a Belarusian - Cyprian joint stock company, started to work in 1999. At present the number of Velcom subscribers totals 1 300 000. Its network covers 56% of Belarus territory inhabited by 85% of the country's population. Velcom network consists of 6600 transceivers installed in 310 inhabited localities. In 2004, the company put into operation more than 200 base stations and, as the result of it, the number of subscribers increased by 500 000.
Velcom Users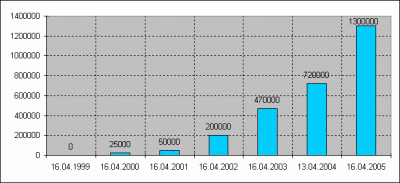 During the six years Velcom has invested USD 233,7 mln into its network and services development. Velcom's tax payments totaled USD 141,4 mln in 6 years.
The company has now 900 employees working in 24 offices and 487 dealer points in 131 cities.
Useful links:

This information may be reproduced provided that E-Belarus.org is given as the source.

This work is licensed under a Creative Commons Attribution-Noncommercial-No Derivative Works 3.0 License